Doctors & Staff
Meet the experienced and friendly doctors and staff who make Covina Hills Optometric Group a proud provider of vision care products and services in Covina.
Dennis Duncan, O.D.
Dr. Dennis Duncan grew up on the plains of Colorado and graduated from the University of Colorado with a bachelor's degree in molecular biology. After completing his Doctor of Optometry degree at the Southern California College of Optometry, Dr. Duncan served as the Chief of Optometry at Loring Air Force Base in Maine.
Dr. Duncan has been with the practice since 1984, and is board certified in the treatment and management of ocular disease. He has served as President of both the San Gabriel Valley Optometric Society and the Covina Sunrise Rotary Club. He continues to be a vital member of the Rotary, coordinating the club's fund raising program. He also has been an expert examiner for the California State Board of Optometry, the body responsible for the licensing of optometrists in California.
Dr. Duncan's wife, Wendy, is also an optometrist. Together with their 2 sons, Malcolm and Liam, Dr. Duncan has enjoyed working with the Boy Scouts of America, serving as a Scoutmaster of Boy Scout Troop 699 in Rancho Cucamonga. He also is an avid snow skier and enjoys camping and backpacking in his free time.
Perry Hom, O.D.
Dr. Perry Hom is a native of San Diego, California. He holds two Bachelor of Science degrees, one in Microbiology from San Diego State University, and one in Vision Science from the Southern California College of Optometry (SCCO). He earned his Doctor of Optometry degree from SCCO in 1986.
He enjoys all aspects of optometry, with special emphasis on prescribing lenses to improve occupational and vocational performance, including the specific visual needs of computer users. He is board certified in the Treatment and Management of Ocular Disease, including glaucoma. Dr. Hom enjoys giving back to his profession as an Assistant Professor at the Eye Care Center at SCCO, where he has been working with student doctors for over 20 years.
Dr. Hom has been active in a number of community organizations. He has served on the Board of Directors of the Covina Chamber of Commerce, and has been a member of the Covina Rotary Club for 20 years, serving as club President, and several other club positions. Dr. Hom also devotes time to his family, academic career, golf, and home remodeling projects. Dr. Hom and his wife, Dr. Horibe, enjoy attending sporting events of their two children, Brianna and Jordan.
Francine M. Horibe, O.D., F.C.O.V.D
Dr. Fran is a graduate of the University of Hawaii and the Pacific University College of Optometry. She completed a post-graduate Residency in Pediatrics and Binocular Vision at the Southern California College of Optometry, where she also served as an Associate Professor, working with 3rd and 4th year students in the Pediatrics and Vision Therapy departments.
Dr. Horibe is a certified Fellow of the College of Optometrist in Vision Development (click on the Related Links tab for more information). She has given numerous presentations and lectures to parent and teacher groups, students, youth groups, therapists, and other vision care professionals.
Dr. Fran loves working with young people, and the young at heart. She uses lenses, contacts, and vision therapy exercises to help patients improve their visual performance for school, work and sports. Her specialized background helps her find creative ways to improve the visual functioning of her patients with special needs, such as cerebral palsy, Down's syndrome, autism, and traumatic brain injury.
She has served on the Executive Boards of the Asian American Optometric Society and the Ranch Hills PTA. When not helping patients master their visual potential, Dr. Fran often can be found around the pool deck at her daughter Brianna's swim meets, or courtside for her son Jordan's basketball games.
Carmen R. Gutierrez, O.D.
Dr. Carmen R. Gutierrez earned her Doctor of Optometry degree from the Southern California College of Optometry. In 1987, she completed a Hospital Based Residency program at the West LA Veterans Administration Medical Center, where she utilized her skills in the treatment and management of ocular disorders. Dr. Gutierrez is fluent in spanish and along with her education, training, and desire to help others allows her to provide the very best of care to all of her patients.
Dr. Gutierrez is a member of the American Optometric Association and California Optometric Association. She is also involved in the Ocular Nutrition Society, an organization whose goal is to promote excellence in patient care through nutrition education to support eye and whole body health, as well as prevent and control disease.
Dr. Gutierrez enjoyed the beauty of the Pacific Northwest while working on her undergraduate studies at Pacific University in Oregon. She continues to indulge her passion for the great outdoors during her annual camping trips to our national parks. Dr. Gutierrez lives in West Covina with her husband and two children. She enjoys spending her free time with her family and friends, traveling, hiking, cooking and gardening.
Dena McNeal, Vision Therapist
Our Vision Therapist, Dena McNeal (pictured below), is an enthusiastic teacher & genuine "people person"! Dena is a native of Covina & began her career as an optometric intern in 1987. She became part of our vision care team in 1994, specializing in frame styling & contact lens management. Dena began working with a division of our therapy program in 2001, and enjoys helping young children, teens and adults discover how they can use their vision to the best of their ability.   She continues to expand her knowledge in all areas by regularly attending seminars and continuing education classes. She loves to spend her free time with family & friends at sporting events & other gatherings, as well as expressing her creativity though crafting & home decoration.
Meet The Office Staff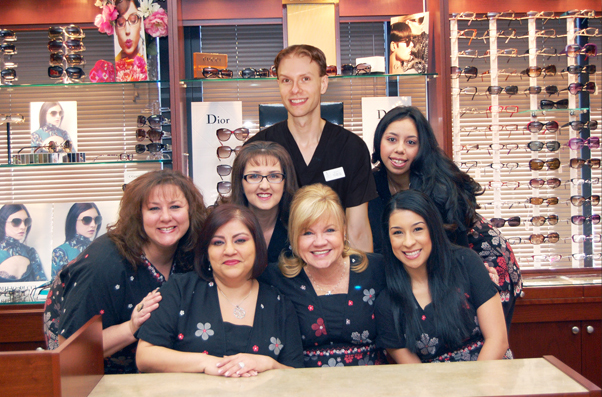 Our enthusiastic and caring staff is committed to providing you with the most enjoyable experience when you visit our office. The staff is well trained and dedicated to giving you the utmost in personalized professional service and care. Our patients enjoy coming to our office because they are always treated like family.
Back Row: Dena, Meesh, Scott, Gina
Front Row: Esther, Debi, Marla